Hi all,
Its good to be back after a long seattle winter. I've been hard at work 3d printing and excited to get back to this. Hope you all have been well.
Before it got rainy, I put a couple of tarps on my Farmbot and strapped them in place. I left power on for the winter because . . . maybe because I'm stupid but I rationalized it with:
a. I want to make sure it stays working
b. Being on will be extra protection against moisture
c. I'll be able to upgrade it when new releases come out and avoid having to do multiple later.
Throughout the winter I checked on it and upgraded it.
A month or so ago I upgraded it. Then I instructed it to reflash . .then unlocked it. After that, the Farmbot was not happy (i.e. offline). I went outside and saw that the Farmbot SSID was being broadcast but that it had unexpectedly shut down. So I left it for better weather.
Today I brought the SD card in and reflashed from a fresh download. I put it back in and it booted up.
I configured it for Ethernet - again, Ethernet, I say. I only use WiFi to select Ethernet and enter my credentials. Configuration seemed fine and it rebooted.
But it never came online. I went back to it several minutes later and it was advertising the SSID again.
When I connect to the SSID it says that "Farmbot Unexpectedly Shut Down" with a reason of farmbot_ext exited 5 "shutdown"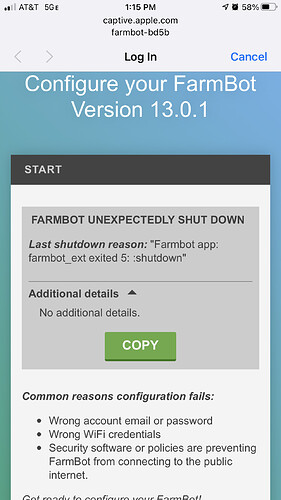 I saw there was a similar thread called "# Farmbot_ext exited 5: :shutdown" but the solution wasn't published.
I appreciate your help
Jack