FarmBot OS v14.0.0 Beta Preview
Today we are announcing the beta release of FarmBot OS v14.0.0.
About Beta Releases
A beta release is a version of FarmBot OS that is almost ready for public use but is still under active testing.
If you are eager to try new features before they are publicly released, you may opt-in to receive a beta update for your device (instructions below).
If you require a high level of stability for your device (eg: it is currently tending to a live garden), it may be best to wait for the official release since a beta release may have slight stability issues. We appreciate bug reports for problems found on beta versions of FarmBot OS.
What's New?
FBOS v14.0.0 is a stability upgrade. Most notably, it contains a complete overhaul of the firmware handler. This release does not yet support StealthChop, but has many improvements that will eventually pave the way for StealthChop support. If you have experienced issues in the past related to firmware flashing, movement error recovery or general firmware stability problems, this release addresses many of those issues.
How to Opt-In
We appreciate bug reports on beta versions- please let us know if you have problems!
If you want to try the latest beta versions, you may switch your device to the "beta" channel as follows:
v14 has new firmware- be prepared to re-flash your Farmduino/Arduino board!
Open the device settings popup by clicking the device version in the device settings panel.
Next, click on the device's FBOS version number
Select "beta" in the drop-down labeled "OS RELEASE CHANNEL."
Click "UPDATE TO 14.0.0"
Once the device has rebooted and is back online, click the "FLASH FIRMWARE" button to upgrade the firmware version.
If you experience problems not seen in the previous version, please leave a comment.
---
NOTE: This screenshot is from a previous FBOS version. Your version will differ.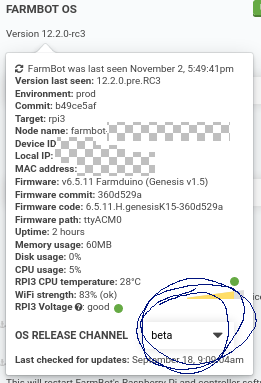 ---
NOTE: This screenshot is from a previous FBOS version. Your version will differ.


---
Flashing the new firmware version: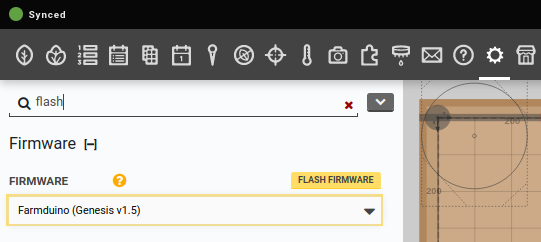 Special thanks to @jsimmonds for their QA efforts during the alpha phase of this release