Hello everyone!
On thursday it was the first time my farmbot was running overnight. On friday I disconnected the farmbot because I had to retangle an twist in the driveway pulley. Afterwards the FarmBot did not reconnect.
So I reset the farmbot to factory default and used the FarmBot Configurator to connect again.
Afterwards the position of all axes was -1 (X,Y,Z) and I could not move the robot in any direction:
When I try to move the farmbot it says:
Failed to execute rpc_request: "Failed to start movement: :noproc" and then
Failed to execute move_relative: "Failed to start movement: :noproc"
I also can not change any settings of the motors and encoders: seems like i get no connection to the arduino: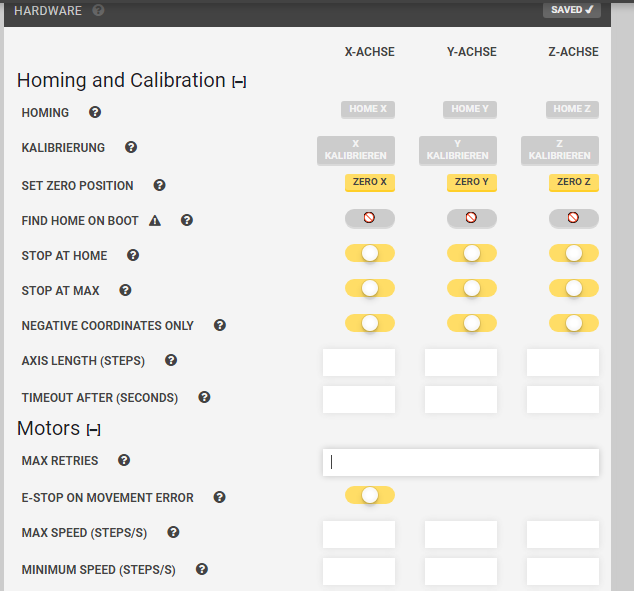 T tried to update to 5.02 but the problem still remained. Afterwards I overwrote the image on the SD-card to 5.01 again, but I still got the problem. I guess it is a hardware issue.
The control lights on the Ramps board and the Arduino are still burning, but am afraid that I have damaged some hardware because the adapter was to hot.
Does somebody have an idea where I should focus to find out where the problem is?
@Gabriel: Could you tell me what the "noproc" error is meaning. Does it mean that there are for to many processes running at the same time?
Jonas