First of all, Happy New Year everyone! I wish you all the best in this new decade of 2020.
I wanted to make a follow-up post on an issue I had in a previous post I submitted in late September. In short, It looks like my Farmdiuno is failing? I'm not completely sure to be honest though.
Here is a breakdown of what happens in sequence from beginning to end.
After flashing the FBOS and reconnecting. The FB gets stuck in this Syncing/Unknown loop.

After about 15-20 min the loop ends and the FB receives this error and gets stuck in a sync only loop.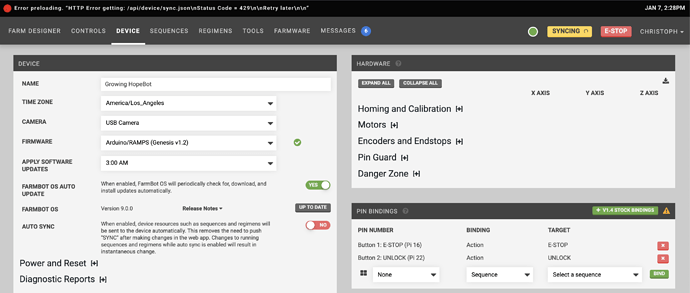 After about 5 min the sync loop stops and finishes syncing. I can move the FarmBot with the move buttons just fine. however, I cannot move the FarmBot with the "move mode" in the Farm Designers.
Everything seems to be working just fine besides the move mode in the Farm Designer but the process was very odd. I did absolutely nothing to intervene or solve the loop issue. I just kinda let it work itself out (more like leave it for a little bit and hope it fixed itself lol) but I thought I might as well make a post for documentation purposes. I feel confident that the brain system of this FB is just old and needs replacing (<—any input welcomed on this) and we will also be purchasing another FB for the school here soon so I'm not too worried about the issue.
I've been away from the school for the past 2 weeks and just now am seeing all the new features and updates from December 31st. Absolutely great freakin job guys. The sequence folders and bulk plant selection are A+ features. Keep up the great work.