Hi all,
I'm a bit new year. Got my Genesis in February and have been slowly building as I have limited time and only on the weekends. Today I tried the first movement commands with generally positive results.
All the motors work in both directions
I can reach all points of my bed
I can home and calibrate my Y axis and my Z axis
However, I can't home or calibrate my X axis. While the Farmbot will happily move to either end, it simply never detects when it hits the stops (the metal stops that come with the farmbot, not DIY endstops or anything). I get errors like:
Error
x-axis timed out waiting for movement to complete
I'm not an expert on stall detection, rotary encoders, or current sensing stepper drivers but thought I'd put those in as keywords.
I am not sure if its related but for completeness, my voltage indicator is yellow.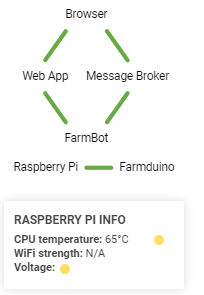 I appreciate any help in advance!