Hey all,
About the time the 5.0 update was pushed last night, the web interface start acting odd.
First, the web interface informed me that my web browser needed a hard refresh, which I did.
Second, the web interface informed me that my OS was outdated. This is how I found there was a new firmware release.
Third, the web interface -> Device page informed me that "The device has never been seen. Most likely, there is a network connectivity issue on the device's end." (see first pic) The log also "loads" with what happened from 1915 Aug 8th. It does not seem to remember anything that has happened since (effectively, refreshing the page will "clear" the log history. This seems to point to the farmbot not communicating with the server). I have performed a factory reset, but this did not result in any behavioral change.
Fourth, the web interface -> Device page -> Motors section no longer has a value for "Max retries. If I try to set it, I get an error "Farmbot got an unrecognized param: "param_mov_nr_retry". (see second pic)
Fifth, the web interface -> Controls page no longer shows the motor coordinates (see third pic). I can still command the Farmbot to move, and it does, but the coordinates do not update.
Sixth, I have tried to auto update, (turn on autoupdate, then reboot the Farmbot) but the Farmbot does not download it (no log message) nor does it ever reboot.
Has anyone seen this, or similarly weird behavior?
"Device has not been seen"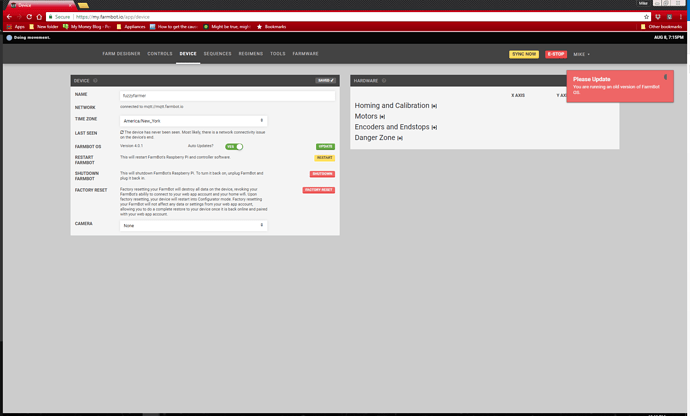 Max retries issue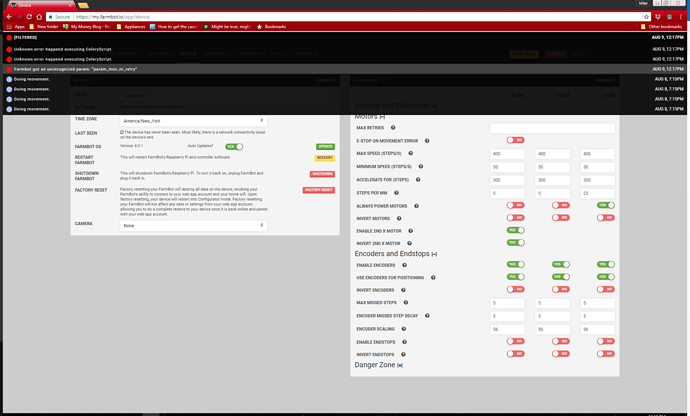 Missing motor coordinates