This is all-new laser killing weed removal tool for the Farmbot designed by Project Cyclops, an innovative team of Engineering Students and programmers based out of Dubai, United Arab Emirates. Congratulations on this successful proof-of-concept demonstration work!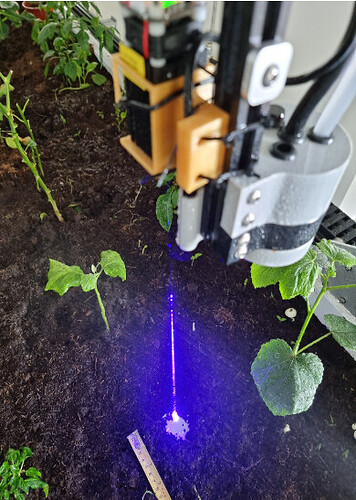 Project Team - PROJECT CYCLOPS
Rahul Arepaka - Project Lead and Designer
Ethan Hadimani - 3D Mount Designer
Sanjay Pramod - Farmbot Sequence Programmer
Atin Sakkeer - Programmer
This tool is designed to destroy weeds using a laser.
Please see this associated documentation for full details.
GitHub: GitHub - rahularepaka/Project-Cyclops: Weed Detection and Killing Weeds using Lasers of 500mW on Farmbot This Project is in collaboration between Farmbot Inc and the Center of Excellence of Artificial Intelligence and Robotics
Report 4_compressed.pdf (2.0 MB)