I saw that the gantry rails and the tools could be quite exposed to harsh weather and got me thinking…
What would happen in harsh environments? Could the tracks get blocked by ice (or snow)?
I'd have two ideas to avoid this but they would complicate things quite a bit:
The first is to have the tracks and tools roll and function underneath the garden bed's structure (I drew a quick picture to give an idea, the same principle could be applied for the tracks.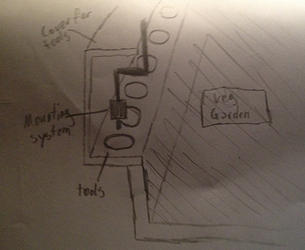 The second one, as the first complicates the design of the whole system, would be a more simple system that just covers the whole structure up when it isn't being used…
A box could open and close around the tools when the mounting system isn't near them and a cover could pull back and forth over the rails and cover the whole rail system when in home position (like a blanket I guess lol).
One final idea I was thinking of was to use magnets instead of a rail system for the gantry. This would be similar to the mag lev train concept but I guess it would make the project way more expensive and require a lot more energy.
If none of these or other solutions are viable and the problem persists I guess a greenhouse would be the most elegant solution for those that would face such challenges