Hello everyone,
I managed to migrate the manifest.json file in my personal fork so it can be installed at v8.0.0. There is only one error left, as it constantly shows that the JSON is not valid. All JSON validations that I found in the web are not showing any errors and I also tried to delete unimportant lines from the manifest that may cause issues.

Now when running the farmware, it starts with an error that a file is missing. Then the farmware seems to read all input correctly but does not continue then. After a while sometimes the diagnosis popup shows that the arduino is disconnected and I'm not able to control/estop the device. Rebooting still works and fixes it.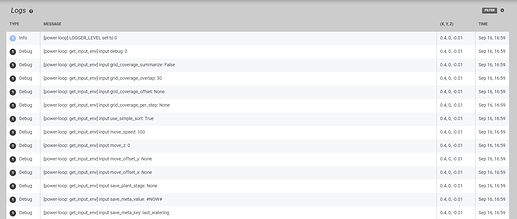 @connor Any idea what causes that 'No such file or directory' error or what this missing file is?
I also checked the MLH farmware which has similar issues (no reaction after pressing run, sequence get stuck when executing farmware). Not sure if the input_env are not properly read or if something else is missing on the farmware.