I have posted an alternative water nozzle on Thingiverse: https://www.thingiverse.com/thing:4534979
It has solved two issues and created one additional benefit for me:
Rather than droplets, the original watering tool on my FBot creates a devastating water column of death (water pressure not high enough?). The new tool has less holes and they are printed at different angles, hence resulting in a cone of droplets:
ORIGINAL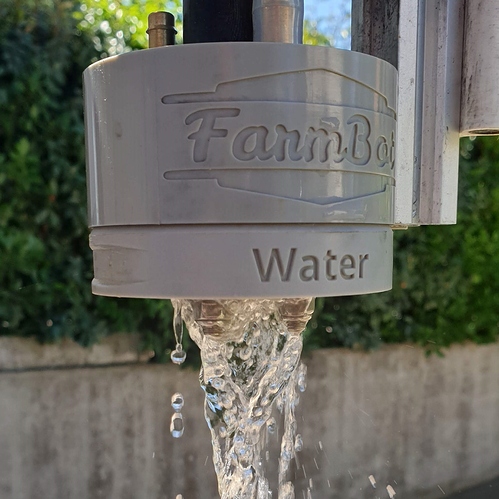 ALTERNATIVE DESIGN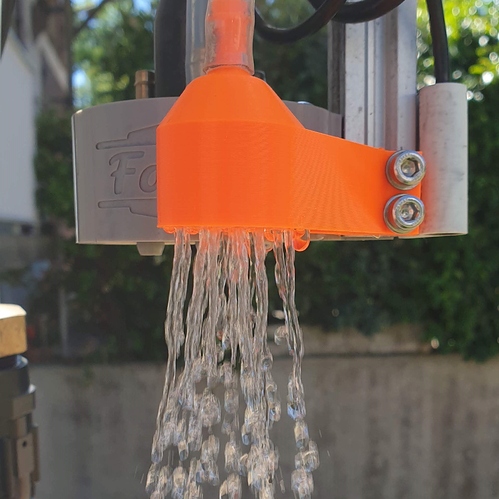 I have lots of issues with Tool Verification not detecting when a tool is mounted. The fact that this nozzle is always connected means that I don't have to worry anymore about whether the correct tool is mounted or not.

Finally, one added benefit is the fact that my watering sequence doesn't need to mount and unmount anymore. This saves time and reduces noise.
If you want to print one for yourself, you will need:
2 x M5 screws 25mm
2 x M5 Washers
2 x M5 nuts for 20x20 alu profile
Finally, the new nozzle is mounted in front of the UMT. If you want to maintain absolute accuracy, you should offset your X position in your watering sequence by -51mm.