Hi,
I tried to build my first sequences to mount / unmount a tool, e.g. a seeder.
The movement etc. works fine.
After the tool is mounted I try to read the pin 63 (Tool verification) which returns the correct value and then do an if.
Here something goes wrong and i end up with an error and emergency stopped FB: CS Failed: [read_pin] - "variables may not contain special characters.
I have no idea what is wrong with my (simple) sequence… any ideas / hints here?
Thy
Markus
Here are screenshots of my sequence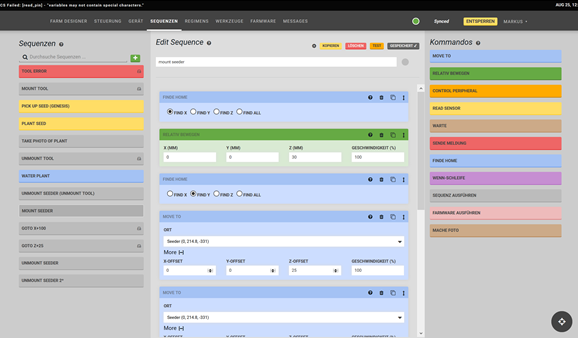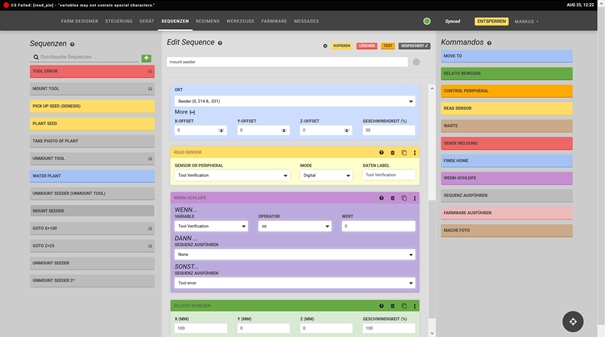 Here is the log:
| Fehler | CS Failed: [read_pin] - "variables may not contain special characters." | 0, 214.8, -331 | Aug 25, 12:22 |
| --- | --- | --- | --- |
| 1 | | | |
Erfolg|Tool Verification value is 0 (digital)|0, 214.8, -331|Aug 25, 12:22|
|1
Erfolg|Movement to (0.0, 214.8, -331.0) complete.|0, 214.8, -331|Aug 25, 12:22|
|1
Beschäftigt|Moving to (0.0, 214.8, -331.0)|0, 219.4, -306|Aug 25, 12:22|
|1
Erfolg|Movement to (0.0, 214.8, -306.0) complete.|0, 214.8, -306|Aug 25, 12:22|
|1
Beschäftigt|Moving to (0.0, 214.8, -306.0)|0, 0, -271|Aug 25, 12:22|
|1
Erfolg|Movement to (0.0, 214.8, -271.0) complete.|0, 214.8, -271|Aug 25, 12:22|
|1
Beschäftigt|Moving to (0.0, 214.8, -271.0)|0, 214.8, -301|Aug 25, 12:22|