Hi FB community!
First of all, apologise if I'm repeating an enquiry. I've searched the whole forum and couldn't find a solution.
I'm using the OS 8.2.3 on Genesis v1.4. I'm not being able to calibrate the camera correctly. I can take pictures, but the images are being shown 1) mirrored and 2) at a wrong scale (slightly smaller)
I know that the mirror imaging problem should be solved by modifying the "Origin location in image" parameter, but absolutely nothing happens when I modify it. Image always shows up the same.
It's weird that in the Farmware tab the image shows up the right way, but I see it mirrored in the Farm Designer.

When I compare the image with the two markers 10 cm apart, in the Farm Designer I can compare with the grid and they are 7 cm apart. I assume this is what the calibration is for, but I just can't do any calibration.
I've followed the Camera Calibration documentation carefully and set all the parameters correct (see image)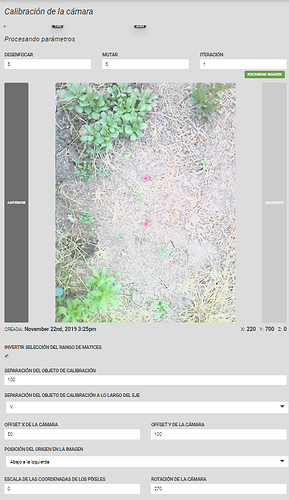 When I try running a calibration, I press the "Calibrate" button and nothing happens. No log, nothing.
When I try scanning the image by pressing the "Scan image" button, most of the time nothing happens, and occasionally I'm getting a "Camera Calibration failed" message, but no log, no nothing. I've tried different lighting, more or less brightness, and I never get anything.
Could you please help me with this? Thanks in advance!