I started with the directions at https://genesis.farm.bot/v1.5/Extras/mods/capture-and-use-rainwater.html
Instead of a plastic rain barrel, I refurbished a wine barrel. Also, instead of putting a spigot at the bottom (would have been nice for pressure), I wanted to use a food-grade insert and hence didn't want to have a hole cut at the bottom. So, I pump the water up the wine barrel and out of the top.
For the pump, I 3d printed a container so I could feed the wires in through sealed tubes. I encased it all in epoxy. I used the following design for this:
FWIW, I tried a smaller pump first and results were poor. However, the pump referenced in the farmbot site worked well.
I got the drum liners from a web site called https://www.ba-industrial.com/. The item code was 374010R. The description was "55 Gal - LDPE - Style - Fold Back - .010 inch( 10 Mil) thick".
I ordered two and they were $8 each. This was the best price I could find for small quantities and a decent thickness.
I've included a video here if you are interested: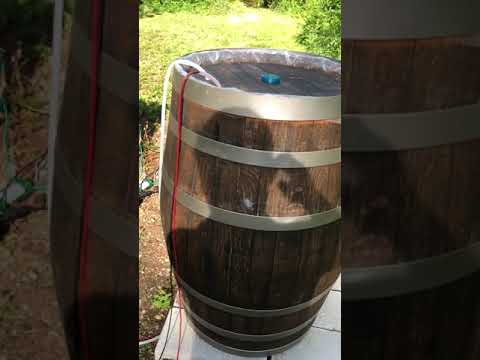 Final details
I used wire from amazon.com - the description is:
14 Gauge Silicone Wire Spool 40 Feet, Ultra Flexible High Temp 200 deg C 600V 14 AWG Stranded Wire with 400 Strands of Tinned Copper Wire, 20 ft Black
I spliced the wires together with the following, also from Amazon.com:
TICONN 120 Pcs Solder Seal Wire Connectors, Heat Shrink Butt Connectors, Waterproof and Insulated Electrical Wire Terminals, Butt Splice