Hi all,
I had a good couple of weeks with my FarmBot and then, with no warning, I tried to home and the Z axis failed its stall detection.
I went through the normal procedures of checking cables and that I had encoder data and everything looked really good. The problem was independent of homing speed and a reboot didn't solve it.
Of course I went back over the encoder troubleshooting page at https://genesis.farm.bot/docs/are-my-encoders-working. Under potential solutions, item 4 caught my eye:
Reflash the firmware by factory resetting and configuring FarmBot OS again. (Alternatively, select a different FIRMWARE in the Device widget and then select the desired firmware again. You should see logs indicating that the firmware has been flashed.)
Thinking it a long shot, I reflashed my firmware and was able to home again. This started happening just about every day. Each time I would make sure that the problem was reproducible (i.e. it wasn't going to just fail once and then work again). Each time, a reflash solved the problem.
The next time I encountered the problem, I tried a few other things like enabling the use of encoders for positioning, etc. Disabling the Z encoder and re-enabling it seemed to do the trick. Now, in my first morning routine before I home, I use asserts to disable and re-enable the encoder. I've been about a week now without having a failure: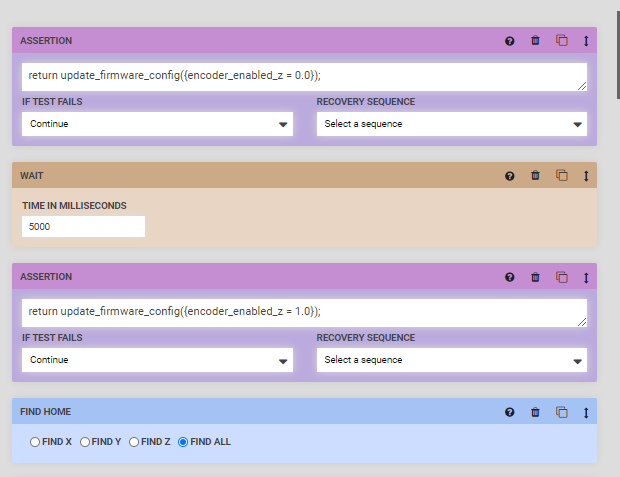 I'd love to hear if anyone else has encountered this or either:
Wants to confirm that this makes sense as a workaround
or
Instead wants to make fun of me and suggest I also shake a chicken bone over the FarmBot because it sounds ridiculous.
Jack