Greetings, FarmBot community!
Today we are happy to announce the release of our first public sequence: One Step Photo Grid.
This is a new public sequence that allows you to take a photo of the entire garden bed in a single command. Aside from camera calibration, no other configuration is required. Previously, this would require the creation of a grid overlay or custom Lua code. This sequence eliminates the need for low-level tinkering by abstracting everything into a single sequence that can be called from FarmEvents or via the RUN button.
Installation
To install the sequence, open the shared sequence page and click IMPORT:

Run
The sequence executes like any other sequence. To try it out, click the RUN button after importing: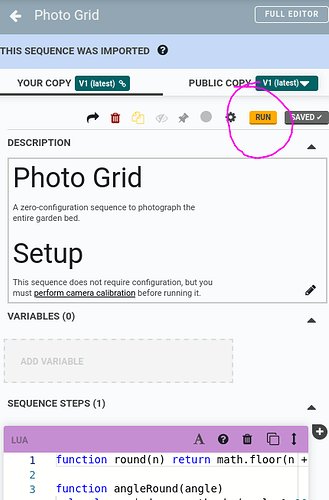 Feedback
This is our first publicly shared sequence. Please let us know what you think! We appreciate bug reports and ideas for future shared sequences.